2023 Hall of Fame
John D. Terry ll '74 Football
Paul E. Fell '75 Basketball
Troy Wren' '91 Track, Cross Country
Francisco X. Acosta '90 Baseball
Chiefs Alumni Weekend---October 13, 2013---OUR Al Reynolds '60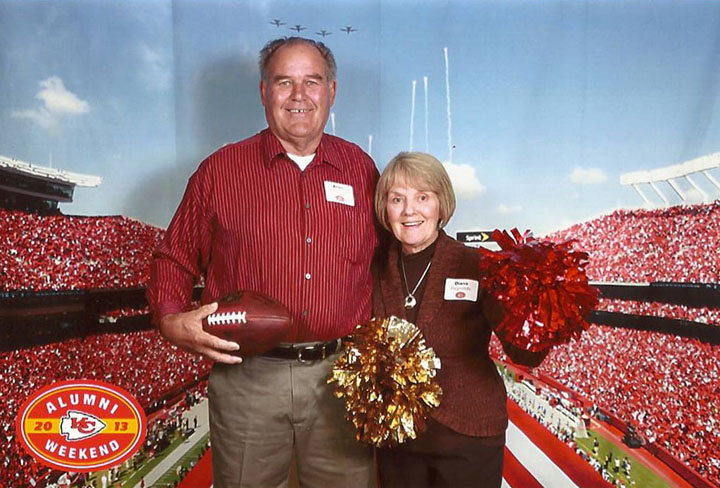 Nominations for the Hall of Fame Awards MUST use this form for any nominations received after August 29, 2013. Please download the form below and mail to TCAA, P.O. Box 111, Tarkio, MO 64491. You are welcome to attach additional pages.
Athletic Hall of Fame Nomination Form
Nominations must be postmarked by March 15 of each year.
When making your nominations for these honors, please consider the following requirements which the selection committee also uses:
Individual
outstanding athletic career at Tarkio College

career in athletics inspired by Tarkio College

All-American

All District

All Conference

number of athletic letters received at Tarkio College

four (4) year student at TC

graduated from TC

met acceptable academic standards

high academic standing as a student athlete

special awards after Tarkio College Career

accomplishments after leaving Tarkio College
Honorary
Honorary members must have been a coach at TC; or a non-four year or satellite graduate of Tarkio College.
If a coach the following will be considered:
overall win-loss record

all sports conference titles

district titles

playoffs

all sports

number of All-Americans or All-Conference players on team

career contribution inspired by TC

team statistical leaders, conference, national district

overall contribution after leaving Tarkio College

special awards at TC and after Tarkio College

career accomplishments after leaving Tarkio college
Teams
team statistical leaders

number or All-Conference players on the team

number of All-Americans on the team

conference titles

district titles

team members who are outstanding supporters of TC

Athletics playoffs

team highlights

special awards

special accomplishments of the team while at Tarkio College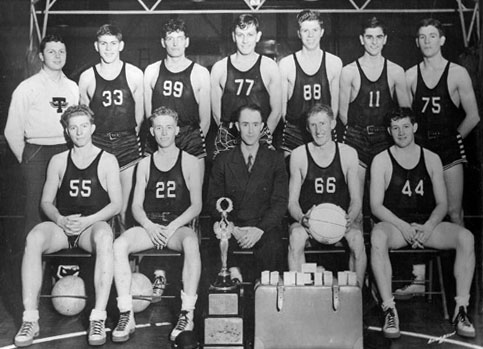 1940 NAIB Basketball Champions
Seated L-R: George Crawford, Raymond Mitchell, Coach Newton P. Pyle, Melford Waits, John Rankin
Standing L-R: Marshall Ivy, George Lewis, Paul McPherson, Hobart Lewis, Lloyd Martin, James Arneal, Charles Warnstaff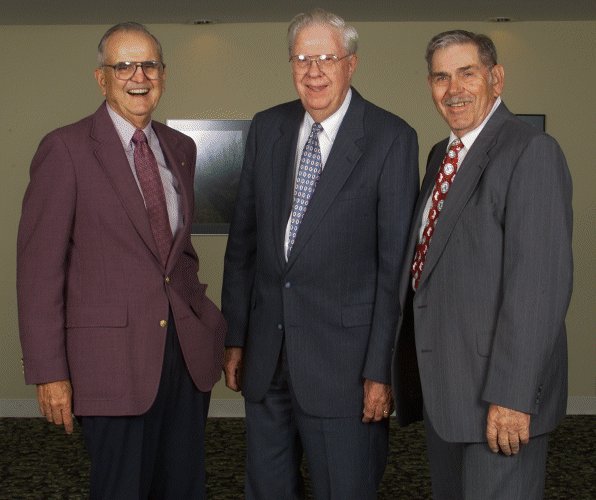 1940 NAIB Team from Alumni Weekend, June 2000
Jim Arneal, Lloyd Martin, George Lewis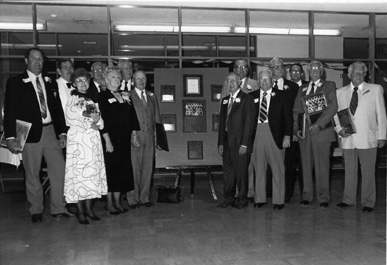 Class of 1987, Charter Members Alumni Hall of Fame
Front Row: Mrs. Beatrice McPherson, Mrs. Beverly Warnstaff-Gerdes, Marshall Ivy, Newton P. Kyle, Raymond F. Mitchell
Second Row: Allen Reynolds, George Lewis, Wallace Dinsmore, Lloyd Martin, James Arneal, Hobart Lewis, Mel Waits, Dr. E.L. Niedermeyer
Back Row: Jack Rankin
---

1987

Dr. E. Niedermeyer (honorary) TC Teams Physician 30 years
D. Wallace Dinsmore - Football, Track, MCAU Record Holder
Allen F. Reynolds - Football, 8 year career Kansas City Chiefs

National Association of Intercollegiate Basketball, 1940 Championship Team

Melford D. Waits - Captain, 1st Team All- America

James Arneal - Forward

George Crawford - Guard

George Lewis - Forward

Hobart Lewis - Center

Lloyd Martin - Center

Paul McPherson - Guard

Raymond Mitchell - Guard

John Rankin - Guard

Charles Warnstaff - Forward

Marshall G. Ivy - Manager

Newton P. Kyie - Coach

---

1988

Frank B. Withrow, Sr. - Midwests's Top Field Goal Drop Kicker.
Catcher for Philadelphia Phillies

Lee H. Padget - TC Track Record Holder in 4 Events

Phil Homeratha - Football, MVP, All-"Everything" + 13 Letters

Dean C. Curnutt (honorary) - Athletic Booster Extrordinaire

---

1989

Edward A. Wood - State Record Holder Mile & 2 mile, 3 years
Carl L. Wilson - MCAU Pole Vault Champion 4 years, High Point Man at MCAU Track Meet his junior year
Robert A. Bacon - Football and Track Great, 1st NAIA Track qualifier from Tarkio College
R. W. George (honorary) - Tennis coach and Athletic Booster

---

1990

Ralph Ginn - TC Football, All-State, TC Coach, Head Coach South
Dakota State University

Phillip Henn - TC Track star, Decathlon Champion, Masters Track Meet

Harold Offenbacker - TC Track Records in shot put, javelin, high
jump, official for football and baskeball after graduation from TC

George Phelps - NAIA Qualifier in 100, 220, 440

Gerald "Gabe" Shineman - Basketball 4-year scoring record

Donna Schroer Williams - All-time leading basketball scorer in '79,
Missouri Scholar Athlete of the Year '79

Robert L. Lade (honorary) - Member undefeated Peru State Football
Team 2 years, recruited by the Baltimore Colts, outstanding TC
football and track coach

---

1995

Jean George Wheatley - Numerous Wyoming State tennis titles, thirty year career in teaching, coaching and Athletic Administration, pioneer in women's athletics in NJCAA

G. Joseph Stevenson - Missouri State tennis titles/singles and doubles

Wayne Winstead - Coaching

Alvah C. (Crook) Nuckolls - Coaching

---

1996

Dave Palmeiro - Coaching

Stephen "Tony" Gaines - Basketballl and Coaching

Roy "Pete" McIntosh - Basketball

Crystal Clement - Honorary

---

1997

F. Wyatt Huston '29 - Football and Track

Ralph Bennett '36 - Track

William W. "Willie" Mier '50 - Basketball, Track, Tennis

Steven B. Curran '87 - Track, All American

---

1998

1975-76 Women's Basketball Team
Gary Bussard - Coach
Mary Jo Collins
Sandra Langston
Michelle Roach
Laurie Smith
Connie Cook Dyson
Marna Erickson Brown
Cherry Farel Wright
Vivian Frazee Cash
Linda Grumley
Deb Kahler
Diane Morley Lade
Donna Schroer Williams
Maralee Sweeton Dinsdale
R.K. Martin '27 - Basketball, Track, Cross-Country Coach
George Henry '75 - Track, Cross-Country
Becky Confer-Lade '82 - Basketball

---

1999

Paul Gilbert (Honorary) Football Coach
Richard Marchand '63 Basketball
Starley Carr '64 Basketball
Jim C. Taylor '64 - Football

---

2000

Lawrence "Skip" Shear '67 (Honorary) Coaching, Basketball
Jack Fisher '61 Football, Coaching
Dr. Robert Patton '61 Football
William Fox '64 Wrestling, Track, Coaching
Dr. James Curry '68 Basketball

---

2001

Frank Jacob Mertz '38 Track and Football
Carl D. Davis '55 Basketball
Shirley Kerr Bacon '56 Basketball
Roger Wylie '70 Football and Coaching
John Robert "Skip" Sherman '80 Football and Coaching

---

2002

Dr. W. Robert Dodge '53 - Basketball
Phil Hummel '55 - Football, Track, Coaching
Dale Graham ''71- Football

---

2003

Bill Galbraith '58 - Track, Cross Country, Coaching
Lawrence L. Pattee '57 - Football, Track, Basketball
Maxon Dougherty '57 - Football, Basketball, Coaching
Doyle Slayton - (Former Coach at TC) Honorary Member

---

2004

John Gregory '57 - Basketball, Football, and Track
Tim Powers '86 - Soccer
Jaime Gongora '87 - Basketball and Coaching
George Barnett (Honorary)

---

2005

Dwight Pickering '75 - Track, Cross-country, coaching
Randy Crudup '79 - Football, Martial Arts
Chris Meystrik - '91 Soccer

---

2006

Gordon Collins '57 - Basketball and Track
Paul Osborne '60 - Football and Coaching
Willie Foster '79 - Football

---

2007

Doug Grandstaff '60 (Deceased)-- Football
Jon Wiemann '57 - Football, Basketball, Track
Chris Stauch '49 (Deceased) - Football, Basketball, Track

Honorary Dr. Wayne Davidson- Basketball coach 1965-1973

---

2008

Dennis Howard '70 - Basketball
Marv Schlatter '71 - Basketball, coaching


---

2009

Timothy Thomas '71, Track
Charlie Parker '73, Basketball
James "Crop" Martin '74, Basketball

---

2010

Bill Elam '60, Track, Basketball, Cross-country, Football
Thomas Kaczor '66, Basketball
Bill Slaughter '70, Basketball, Track, Cross-country

---

2011

Del Morley '74, Football, Basketball, and Track
Ben McClain III '79, Football

---

2012

Vince Else '58, Track, Cross-country, Coaching
Brad Smith (Honorary)

---

2013

DeOne Sederburg '87 (deceased)
Bob Hull '91
Carroll Hayden '63

---

2014

George Henry '64, football, track
Lou Vircillo '70, football, coaching
---

2015

George McVicker '61 - Football, Basketball, Track, Coaching
Joe Carlisi '65 (deceased) - Football, Coaching
Doug McVicker '66 - Football, Track, coaching
---

2017

Bruce Gilbert, '75 - Track and Field
Marcus Browder, '88 - Track and Field
Ronald Pratt, '89 - Coaching
---

2019

1985 Women's Softball Team

_________________________________________________________________________

2020-21 Esther Taggart Kremer '85, Softball and Basketball

1972-73 Men's Basketball Team

1976 Women's Softball Team

_________________________________________________________________________




2022 Bruce Barnett, '74, Track

Nathaniel Gilbert, '74, Baseball

Walter Knox, '74, Track

________________________________________________________________________________

2023 John D. Terry ll '74 Football

Paul E. Fell '75 Basketball

Troy Wren' '91 Track, Cross Country

Francisco X. Acosta '90 Baseball