Update: The Tarkio College Alumni Association deeded over the campus to the Tarkio College corporation in March 2019. TCAA and TC are two separate corporations. TCAA is responsible for alumni activities, and TC is responsible for running the College. Pictured here are Wayne Gelston, President of TCAA (left), and Don Jagger, President of TC (right). signing the paperwork for the deed transfer.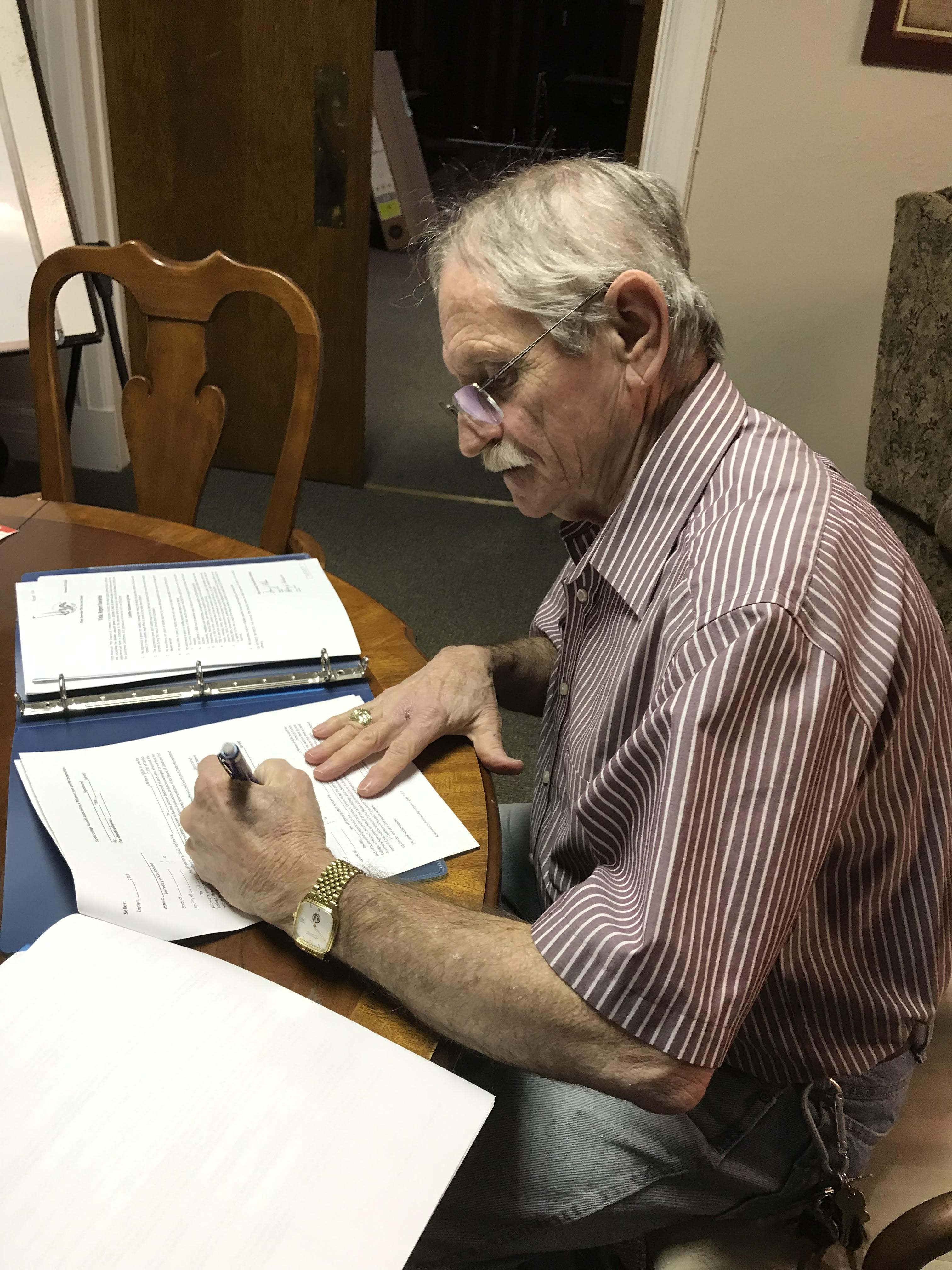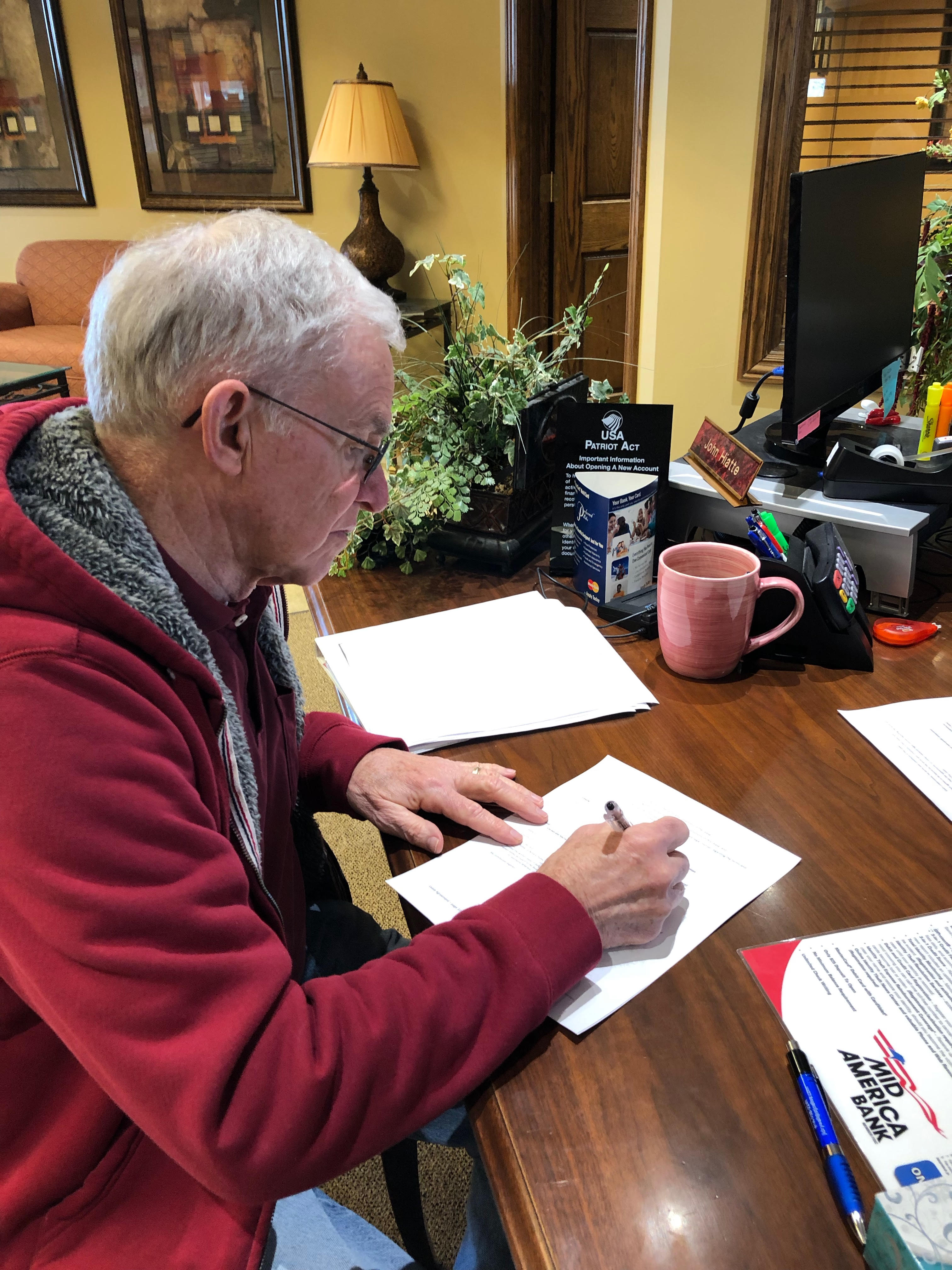 Below: Campus papers being signed by TCAA president Wayne Gelston, and we now own the campus! Come to Homecoming 2018!!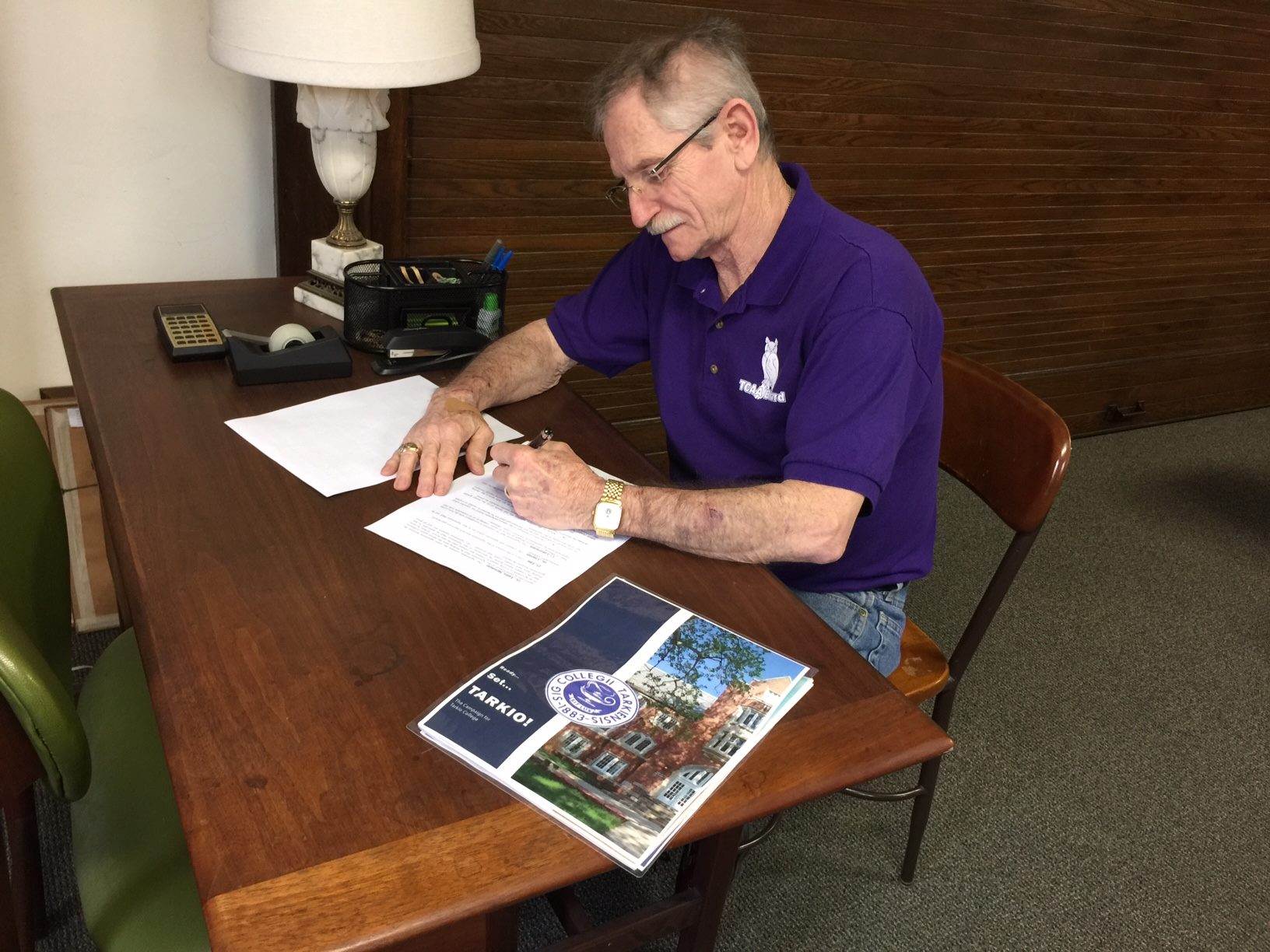 ---
This Is What We Accomplished in 2012
All new plumbing has been installed on the first floor

Floors have been cleaned and polished in the hallway and the chapel

Most first rooms have been scraped and painted

Our museum has been moved to the first floor and many of the displays and pictures are in order

Trash has been removed

Shrubbery has been trimmed and removed

Gutters and downspouts have been cleaned and are functional

Cement work has been completed on the front steps and around the building

The Alumni office has been moved to the first floor and Internet and phone communication has been established

The front of the building has been power washed

Mold has been removed

Dirt has been mounded around the foundation to assist run-off

Initial restoration of the windows is completed with all of the broken windows being replaced and the sealing of the one bad chapel window

Two furnaces have been installed

The flat roof has been repaired
Things We Have Accomplished In 2013
Hot water heater installed and lines run to all restrooms and janitor's closet

Additional toilets installed

Second furnace installed

Second air conditioner installed

Trenching around building completed to assist run-off

All broken windows replaced

Painting on outside windows begun

Restoration of pews and pulpit begun

Chapel widow restoration begun and Lexan installed

Back and sides of Chapel stage painted

Class room readied

Some additional display cabinets purchased

Memory Garden installed along with additional landscaping done.
Things We Have Accomplished In 2014
1. All pews have been sanded and staining has begun
2. Chapel doors have been restored
3. Chapel window restoration is complete and Lexan installed on outside for protection
4. President's office had been restored and new ceiling fan added
5. Break room has been restored and refrigerator added as well as tables and chairs
6. A new refrigerator has been added to the "Cook Shack"
7. Inner office has been restored also
8. New curtain for stage has been installed
9. A small stove has been added to the "Cook Shack" along with pans hangers and new pots and pans. Work shelf has been added. A large outside grill has been added for our cooking needs.
10. Class room restoration continued with white board added along with new tables and chairs
Things We Have Accomplished In 2015
1. Air conditioning and furnace have been installed for the Chapel
2. A collapsible center staircase has been installed in the Chapel
3. Pew restoration has been completed
4. A baby grand piano is now available in the Chapel
5. A glorious organ has been installed in the Chapel
6. Large amounts of brush and weeds have been removed from the center courtyard
7. Brush has been removed from outside Thompson Library and new plantings installed
8. Clean up has begun in Thompson Library
Things We Have Accomplished In 2016
1. A water line has been run from Rankin to Thompson.
2. All brush removed from the campus
3. Additional door work was done in Rankin
Things We Have Accomplished In 2017
1. First floor Thompson cleaned up and made class-room ready
2. Class-room furniture and computers purchased and installed on first floor.
3. All excess books removed from second floor Thompson
4. Outside entrances of Thompson made handicapped accessible
5.
Initial paperwork into the State Department of Education and Site-Visit accomplished
Things

Yet to Be

Accomplished In

2018
1. Finish second Thompson with classrooms and labs. Some additional work on first floor, as necessary.
2. Thompson roof need to be repaired after air conditioner chiller tower is removed.
3. More cost effective HVAC zoned system needs to be installed.
4. Elevator must be repaired or replaced.
5. Replace lower and second floor lighting with LED's.
6. All restrooms brought to ADA code.
7. Floors repaired as needed, scrubbed and recoated.
8. Paint second floor walls, repair as needed.
9. Fire alarm system replace to code.
10. Water fountains installed to code.
11. Lower floor Little Theater repaired and painted; repair and replace lighting as required.
12. Replace Ceiling tiles as needed on all levels.
We welcome all who can come and work when we call a work week(end). If you can't come a particular time, please consider an extra donation to carry us along. We especially thank those who have come long distances, stayed in motels and been faithful workers on Work Weekends. We thank the locals who give of their time on a daily basis. And we thank those of you who have sent donations and dues to keep us going.
---